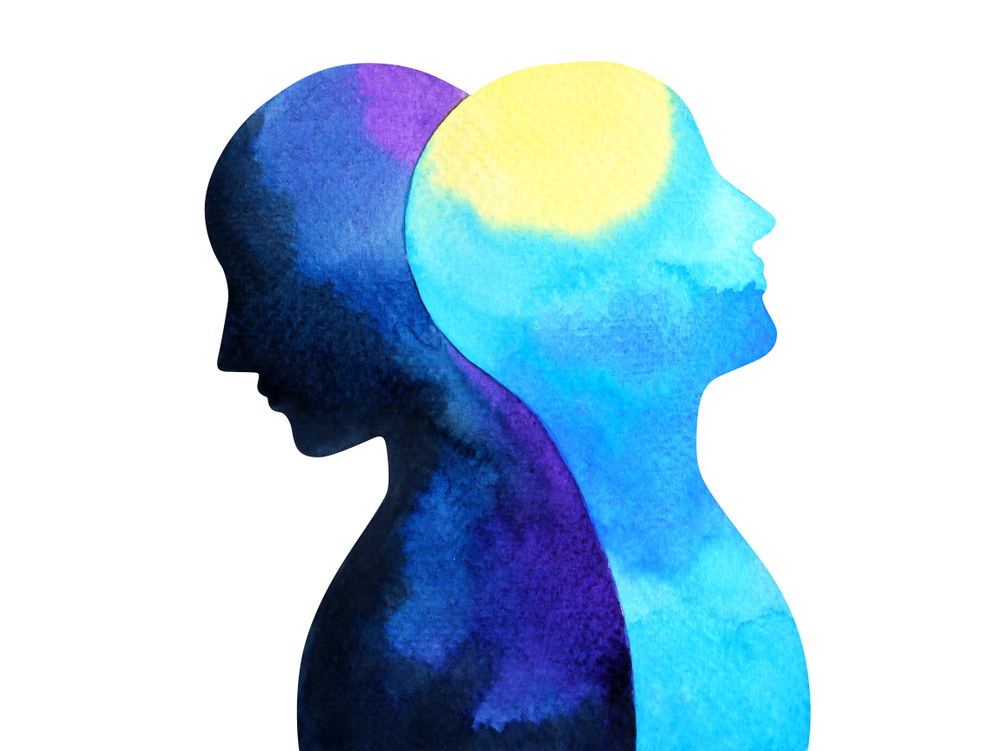 The shadow is one of those concepts that has made its way into everyday language, but I wonder how many people know that it comes from C.G. Jung.  What I am about to share about the shadow does not even come close to its profound mystery.  You can never really know the shadow or fully integrate the shadow.  All of that "shadow work" stuff you see out there is mostly what pop-psychology has done to Jung's work.
For example, you'll see this quote everywhere, attributed to Jung:  "Shadow work is the path of the heart warrior."  Jung never said any such thing.  That is not his language – but yet, there it is – everywhere. It really disturbs me.
In depth psychology the shadow is an important phenomenon to comes to terms with, because if you don't, the shadow will act out in you, causing all kinds of trouble in your personal life. I call it a phenomenon because that is what the shadow is: a fact of life that both exists and affects you, just like any other fact of life.
Unconsciousness is dangerous.  Jung called it the ultimate sin.  When mass unconsciousness constellates a collective shadow, it causes that mass of people to do things they would otherwise never do. Nazi Germany is a prime example.
Table of Contents - Jump To Section
C.G. Jung's Definition of Shadow
Since we're talking about Jungian psychology, then we should start by defining what Jung meant by the shadow.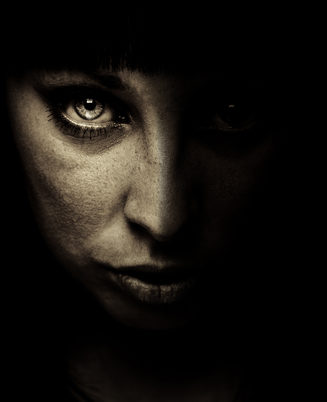 In terms of Jung's structure of the psyche, the shadow is part of your personal unconscious, as opposed to the collective unconscious. Von Franz explained the shadow as "certain processes at the back of the mind of which people are not aware."
What she means here is that there is a whole lot more going on in us than we consciously think and feel.  We also have unconscious thoughts and feelings and these factors make themselves known in Jungian analysis.  As a matter of fact, that's exactly  the kind of stuff we get into by doing this work.
Most people immediately jump to calling the shadow "your dark side".  Oh my gods, the things you see:  embrace your darkness or your hidden powers.  I mean, that's true – but only partially. The shadow is certainly your unknown dark side, but what exactly is meant by "dark side"?  It's not like the dark side of the Force from Star Wars.  As Jung once said, darkness simply means unconsciousness.
Broadly speaking, shadow traits are everything that you don't know about yourself
Shadow traits, then, are not equivalent to so-called "bad traits". The shadow is the light, the dark, the left-behind, and the what is yet-to-come.
The shadow is a personification of everything about yourself which you have rejected, despised, denied, or never even knew was there, which implies, any of that stuff can be just as well your gold as is your shit.
In fact, it is more difficult to recognize the golden aspects of your shadow than it is to come to terms with our dark sides. People dwell all too comfortably in their self-loathing, or, they are terrified of their own magnificence.
Shadow and the Personal Unconscious
I don't normally like these kind of 2-dimensional representations of psyche, because psyche is anything but 2-dimensional.  Psyche is within and without; inner and outer; conscious and unconscious.
Still, I want you to get some idea of how C.G. Jung saw the structure of psyche.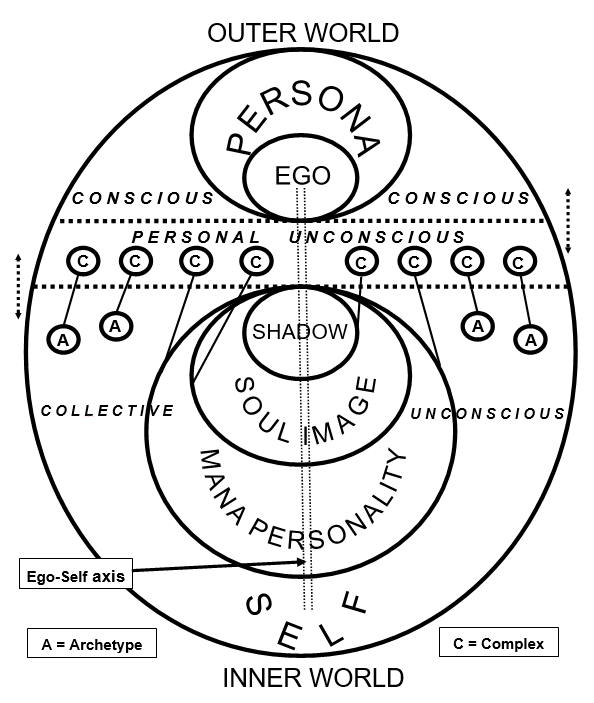 Our personal unconscious is a dimension of the psyche, situated just below the threshold of consciousness and just above the collective unconscious.  All of that is too simplistically stated, but hopefully, you get the idea.
The personal unconscious is a by-product of our particular biography.
It is everything we've inherited, both from our parents and from the culture in which we were raised. It is every choice we did not make to the benefit of another, and all of the unprocessed/unconscious aspects of our life experiences.
All of these personal "left-behind, unconsidered, unconscious" aspects make up an individual's shadow.
A person's shadow traits, therefore, are dependent on how that person lives his or her conscious life. So, if a person lives a life that is full of hate, then we can expect to find some expression of love and kindness somewhere in his shadow.  For the record here, I am not talking about truly evil people – for example, someone like Hitler or Stalin or deranged serial killers.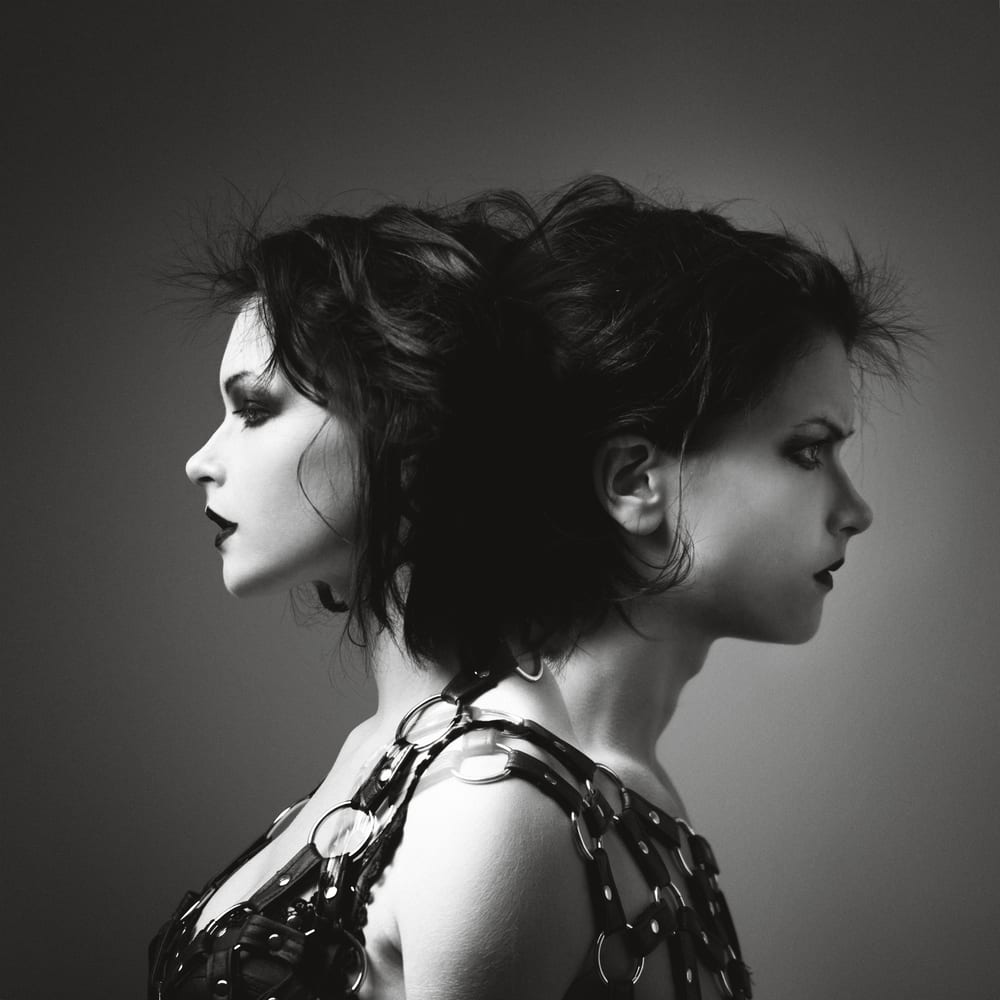 Someone who is raised in a totally loving family will build up an entirely different kind of shadow than someone raised in a hostile family. The person raised in the loving family may even repress so-called "unloving" traits, especially if those traits were "not allowed" to exist.
Even the most loving of people have an equal darkness in their shadow. If you ask these people, "what do you hate?" most will say, "nothing!" But the hatred comes through, most especially in their dreams and slips of the tongue.
What is even more important to remember about the shadow is that it is unconscious – really, really unconscious.
If you have not consciously confronted the shadow, then you don't know it's there.
Even if you do know it's there, still, the shadow can easily sneak up on you, especially where you are psychologically vulnerable, for example in your inferior function. If you don't know what I mean by that, it's a reference to your psychological typology.
The brighter the light, the darker the shadow.Carl Jung
The shadow is behind everything you say and do that you don't want to say or do.  It is that part of yourself that slips and says something negative about another person. The one who tells the little white lies.  The shadow answers "no" to a question, when
you
know the truth is "yes".
I worked with an elderly woman who could sometimes act so prim and proper. She once told me that she was always good.  "I never drank or smoked cigarettes…"  In her sitting room was an old photograph of her when she was younger: in one hand was a cocktail and in other, a cigarette!  Naturally, I had to tease her about that … telling her, "I have seen your photo and I don't believe you."  She laughed and said, "well, I didn't do it all the time!"
Our inferior personality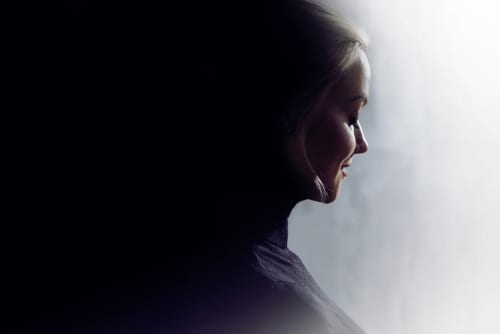 Let's look at some of what Jung has to say about shadow.  Two things to keep in mind here: what Jung means by inferior and the definition of repression.  Repression and suppression are not the same.
The shadow is an inferior component of the personality and is consequently repressed through intensive resistance.Carl Jung, Psychological Types, "The Problem of Attitude-Type", par. 78
If you
suppress
something, you do it consciously.  You push down that which you do not want to think or feel.  Unlike suppression,
repression
isn't an act of conscious will.  Repression is an unconscious mechanism, again, meaning that a person is unaware of it.
Now for the word inferior. Almost immediately, people see the word inferior and impart a moralistic judgment about it, i.e., they assume that inferior means a trait which society or convention considers bad or wrong, such as racism or hatred.
The primitive within all of us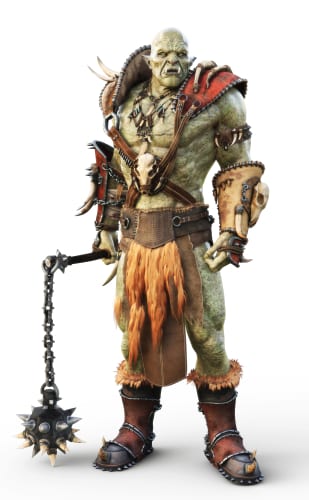 That is not exactly what Jung meant. By inferior component of the personality, Jung meant an "undeveloped" component of the personality. Think of all the synonyms associated with this word:
underdeveloped, primitive, backward, abortive, embryonic, half-baked, inchoate, incipient, inexperienced, latent, potential, primordial, untaught, untrained, behindhand, ignored, unevolved
The undeveloped parts of our personality are all of those aforementioned things above, as well as what I said previously: everything about yourself which you have rejected, despised, denied, or never even knew was there, which implies, any of that stuff can be just as well your gold as is your shit.
Until we become aware of them, the inferior components of our personality are unconscious, i.e., in shadow.  Furthermore, as long as those inferior components of our personality are unconscious, we will project them onto others.
Examples of the Shadow and Projection
I always find it interesting to listen to people ranting about people they do not like. They say things like, "I can't stand the way she …" Then, they proceed to describe unsavory qualities about that particular person.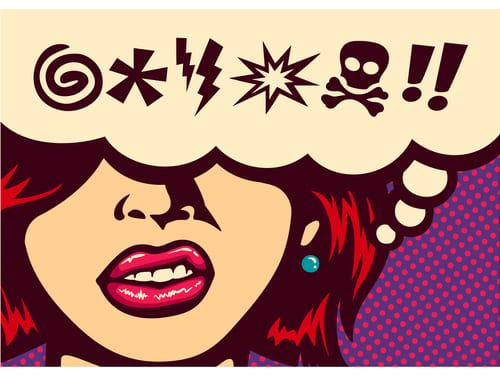 So often, these are actually qualities which the complainant possesses (sometimes in great volume!), but they are qualities of which he or she is completely unconscious.  This is the nature of the personal shadow.
Or let's take a self-professed racist as an illustration of what shadow is and is not.  A self-professed racist isn't repressing his racism, he's living it.
The inferior component of his personality – his shadow – is the part of him who isn't a racist.
Hatred, in and of itself, is also not a shadow quality in the way you might think. For example, people who categorically hate others actually hate themselves.  They unconsciously project their self-loathing onto others. Again, their own self-hatred is in shadow.
Once a hateful person recognizes that self-hatred, those projections will withdraw themselves from others. And once that person can develop empathy for himself, then he can extend that empathy to others.  You can watch any number of YouTube videos about these transformations.
The Negative Aspects of Our Personality and Insufficiently Developed Functions
Here's another quote from Jung:
By shadow I mean the "negative" side of the personality, the sum of all those unpleasant qualities we like to hide, together with the insufficiently developed functions and the contents of the personal unconscious.Carl Jung, footnote #5, Two Essays in Analytical Psychology, par. 103
When he says, "insufficiently developed functions", he is speaking about typology: Intuition/Sensation/Thinking/Feeling. For example, I am an intuitive type, so my insufficiently function is sensation and vice versa. For a thinking type, it's feeling, and vice versa.
Notice that Jung placed quotes around the word "negative" – again indicating the relativity of the moralistic judgment people make about the word.
In addition to that, he meant "negative" as an energetic value – as in the physics definition, the capacity for doing work.  Translated psychologically this means, "is this a functioning aspect of one's personality recognized or not?  Is a particular aspect of a person's personality a working value which a person sees in himself?"
An Example of the Shadow and Inferior Function
When it comes to the inferior function in personality types, Marie-Louise von Franz has some of the best insight out there.  She gives such clear-cut examples about how all of this stuff manifests in daily life.
Here's an example she gives us in The Shadow and Evil in Fairytales.
Von Franz was a thinking type and she had a friend who was a feeling type. They had planned to meet up a hotel both of them were staying at. When von Franz arrived, she hurried past her friend, so only quickly said "hello" to her as she went to her room.
Well, her friend was highly offended that von Franz had passed her by without stopping.
Shadowy Thinking
We don't know why her friend was so sensitive.  In that hyper-sensitized complex state, her friend started telling herself all kinds of things:  she hates me, she doesn't want to spend time with me, she thinks she's too good for me, etc.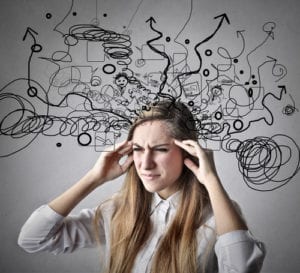 Those are the distorted thoughts of an inferior thinking function.  I think many people are familiar with this kind of  mental spinning.
In my earlier years, I was a fairly one-sided INF.  My thinking function operated in a very similar fashion as the woman in von Franz's example. Man, the crazy thoughts I could have about people's intentions!
Hurt feelings contaminate our thoughts, so the moral of that revelation: "don't believe the shit you say to yourself when you are upset."  That is what I mean by spinning
There are many iterations of how this manifests, depending on your typology, but you get the idea here.
Remember that Jung said our inferior personality is primitive and undifferentiated.  This is exactly what he means.  Undifferentiated states of awareness are highly-charged with affect, which means your body is surging with hormones and neurotransmitters.
Another example of how the shadow looks in real life
Let's go back to the self-professed racist example: his negative value traits are non-racism and self-love. That it is his shadow.
Non-racism is a psychic value that he has within him, but he can't recognize it. It's not a living part of his personality. Were he to discover his non-racist element and then integrate it, he would become a new man.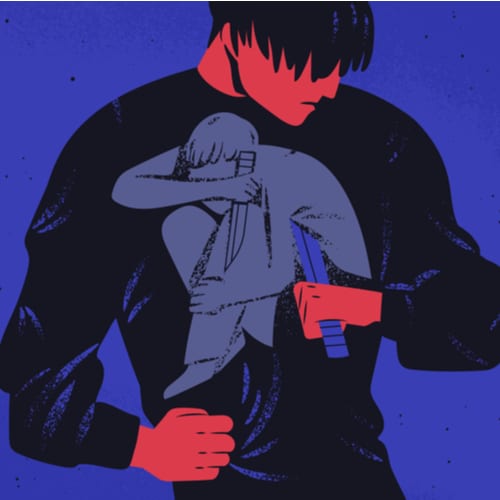 Until then, he will violently resist that somewhere within himself, he has love for his fellow man – no matter what race.
You can watch interviews of former racists and see footage of these people before and after they have integrated their opposite. Their transformations are astounding.
The Fight with the Shadow
The psychological work that goes into those kind of transformations doesn't happen overnight. The real fight with the shadow is realizing and integrating everything that you think you are not.
That struggle is what Jung meant when he said, "Facing the shadow is a moral issue." Only, it is a personal moral struggle – not a struggle with conventional morality. A racist does not change because "it's the right thing to do".
A racist person changes because something or someone moves his heart.  If change does not come from within, then it is not transformation, it's just a social adaptation.
The Shadow and Repressed Aggression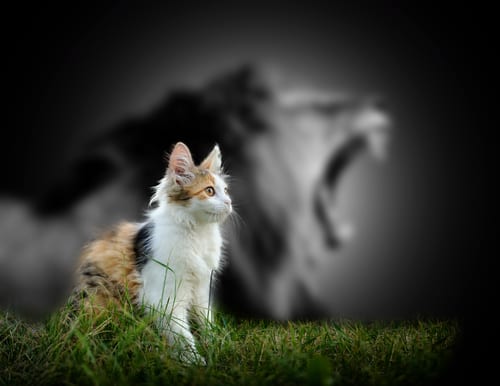 We live in a fairly aggressive world. Twenty minutes in a car reminds you of that.
Aggression is something we need to be in touch with, but it has its proper place. Getting pissed off because someone drives too slow or pulls out in front of you is unhealthy aggression.
Many of my clients suffer from a lack of healthy aggression. For whatever reason, something within them represses their aggression. This means aggression in the unconscious, i.e., they have aggressive shadows.
Now, don't translate that as "their dark side is mean to people". Typically, that does not happen.  Inevitably, these clients suffer from other people who bully or betray them.  And not only that, they also suffer from bullying themselves with their own negative thinking or negative emotions.
In cases like these, aggressors, both in dreams and in the external world, reflect the aggression that is lacking in a person's life. I wrote about this phenomenon in this post on dreams about killing people from my Dream Site.
The Confrontation with Your Shadow
If you want to know your shadow, then watch your dreams. The shadow will always appear in our dreams and it is often in the character of someone we despise – someone who, as in real life, really triggers us.  If we are in denial of unpleasant aspects of ourselves, then this can be a person we know or it can simply a manifestation of some despicable dream character.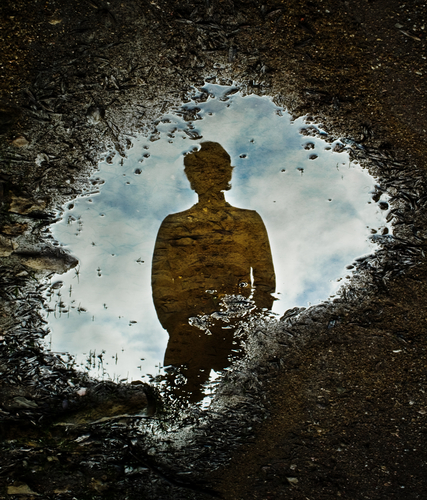 … whoever looks into the mirror of the water will see first of all his own face. Whoever goes to himself risks a confrontation with himself. The mirror does not flatter, it faithfully shows whatever looks into it; namely, the face we never show to the world because we cover it with the persona, the mask of the actor. But the mirror lies behind the mask and shows the true face.

C.G. Jung, Archetypes and the Collective Unconscious, Collected Works, Vol. 9i, par 43

Behind the Mirror
Here he is speaking metaphorically: whoever takes the path into the depths of his own soul will look into the inner mirror and see him or herself as he or she really is.  Dreams will reveal this true image.  Our highly-charged encounters with others will also reveal this.  If we want to know the shadow, then all of it, we must face in sincere and dreadful honesty.
This confrontation is the first test of courage on the inner way, a test sufficient to frighten off most people, for the meeting with ourselves belongs to the more unpleasant things that can be avoided so long as we can project everything negative into the environment. But if we are able to see our own shadow and can bear knowing about it, then a small part of the problem has already been solved: we have at least brought up the personal unconscious. The shadow is a living part of the personality and therefore wants to live with it in some form. It cannot be argued out of existence or rationalized into harmlessness.

C.G. Jung, Archetypes and the Collective Unconscious, Collected Works, Vol. 9i, par 44
Carl Jung: Shadow in Dreams
When you feel triggered or charged by another person, take notice!  You are looking in a mirror.  Below are two examples that Carl Jung shares in his book, Man and His Symbols.  I share them at length because I think it's important to honor Jung's work with his own words:
Dream 1
I recall, a woman who was proud of her intelligent understanding of psychology had recurring dreams about another woman. When in ordinary life she met this woman, she did not like her, thinking her a vain and dishonest intriguer. But in the dreams the woman appeared almost as a sister, friendly and likeable.

My patient could not understand why she should dream so favorably about a person she disliked. But these dreams were trying to convey the idea that she herself was "shadowed" by an unconscious character that resembled the other woman.

It was hard for my patient, who had very clear ideas about her own personality, to realize that the dream was telling her about her own power complex and her hidden motivations — unconscious influences that had more than once led to disagreeable rows with her friends. She had always blamed others for these, not herself.
Dream 2
There was, for instance, a lady who was well known for her stupid prejudices and her stubborn resistance to reasoned argument. One could have argued with her all night to no effect; she would have taken not the slightest notice.

Her dreams, however, took a different line of approach. One night, she dreamed she was attending an important social occasion. She was greeted by the hostess with the words: How nice that you could come. All your friends are here, and they are waiting for you."

The hostess then led her to the door and opened it, and the dreamer stepped through — into a cowshed !

This dream language was simple enough to be understood even by a blockhead. The woman would not at first admit the point of a dream that struck so directly at her self-importance; but its message nevertheless went home, and after a time she had to accept it because she could not help seeing the self-inflicted joke.
Integration of shadow and making it a living part of your life
…in the first stage of approach to the unconscious, the shadow is simply a "mythological" name for all that within me about which I cannot directly know.Marie-Louise von Franz, The Shadow and Evil in Fairytales
In the beginning stages of working with unconscious material, the shadow is basically everything you haven't realized about yourself.  It's like a mad, rushing-in of moods, emotions, judgments, all of which is imaged in dreams.
The more you work with this psychic stuff, the more differentiated it becomes. Only then can we start talking about "your shadow side", the anima or animus, and finally, the archetypes.
If you want to do this work on yourself, then eventually you have to differentiate unconscious material.  For example, the "stuff" that comes from the shadow is ultimately very different from that which comes from anima or animus.  The shadow, as I have already said, is everything about yourself which you have rejected, denied, or repressed.
Anima and animus eruptions are different.  For example, in a woman, the animus is a personification of harsh judgments or undiscriminating opinions.  In a man, the anima is a personification of undifferentiated emotions or moodiness. When all of this unconscious stuff is undifferentiated, we identify with it, rather than work with it.
An example of the shadow in women: a mother complex induced shadow
Let's look at a mother complex in a woman, which is all-to-common scenario.  Let's say a woman grew up with a personality-disordered mother who was emotionally unavailable to her.  In addition to that, the mother showed favoritism to her sister, a sister with whom she was unable to bond.
A girl in this situation will develop profound insecurity about herself.  Unconsciously, she feels jealousy toward her sister, and perhaps, also competes for attention from her mother.
I hear FAR too many ignorant women use the term "mommy issues" to describe (rather crassly, I might add) either themselves or other women. This is not a such simplistic, (pop)psychological situation here.
A scenario such as this one tends to have two effects in a woman: self loathing that is turned solely inward, where a woman is torn apart every night by inner voices of self-doubt or self-loathing that is projected onto other women.
We're going to look at the latter. These women are the living image of the ugly stepsister.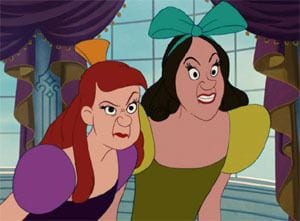 This is a horrendously destructive dynamic in a woman's psyche, most especially for the women whose lives this ugly stepsister "blights with the touch of her friendship and assistance" (to borrow an exquisitely descriptive phrase from Joseph Campbell).
Let's take an example of a seemingly secure and confident woman who presents herself as someone who would be a good friend. Over time, something starts to reveal itself: the closer you get to her, the more you see her shadowy, conniving side – gossiping, lying, and sometimes, even committing cruel acts against other women – most especially the women she's jealous of.
The odd thing about such a woman is that sometimes, she is actually a cool woman. It's this nasty shadow of hers that is the problem.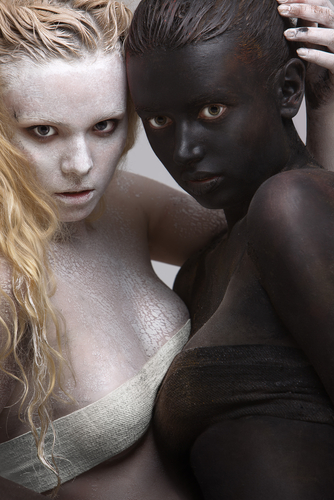 What triggers this shadow?  Jealousy and insecurity are this woman's problem, but all of that is buried beneath a facade of self-confidence.
Now such a woman, would likely deny that she is that shadowy way – even though you have witnessed her behavior first hand. A woman who doesn't recognize or can't admit her shadow nature will fall victim to – and so will the many other women she meets, who for lack of awareness, can't see her coming.
Realization of the shadow
Now, let's say this woman has a dream, where she's riding around in a car with 2 female serial killers – a mother and daughter killer pair. In particular, these female serial killers go after women.
The dream unveils something about this shadow process which essentially kills this woman's relationships with other women.  Furthermore, let's say we find out through analysis that she had issues  with both her mother and her sister never having accepted her.
This has made her feel insecure around certain kinds of women … you get the idea?
Integration of Shadow
After the analysis and interpretation of a dream like that one, hopefully, the woman sees what she has been doing – how many relationships she has destroyed with this kind of behavior.
Now she is aware that she has jealous shadow who is out to destroy other women. She and I work on her issues with her mother and sister, and she has to work on not acting out when she feels triggered. Not only does this help her in her relationships with other women, it also opens her eye to that evil stepsister when she steps back into her life.
The Shadow of a Psychopath
Here, I want to share with you a common misconception of shadow.  Again, this comes from a question someone asked on Quora:
Read Jesamine Mello's answer on Quora